We did it again: 3 crazy days filled with kick-ass gaming, exciting competitions, hardware throwing, testing out the newest and future games at FoMCON, chilling at the bar, and all of this layered with our space theme.
With over € 10.000 of prizes, both in cash and hardware, there was a lot of strong competition going on between participating teams. An overview of our competitions and the winners, can be found here.
But FoM isn't just about competitive gaming, we also saw many clans just participating to play games and have fun with friends.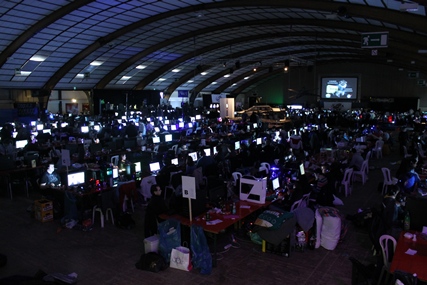 While we are still trying to enjoy every minute of sleep we can, we see many FoM after movies and pictures being published across the world wide web. To make sure everyone can look back at the past 3 days, we would like to ask to upload or link your Frag-o-Matic 14.0 movies and pictures on our forum.
We also want to thank all our sponsors and partners for bringing this event to life. Without them these kinds of events simply wouldn't be possible. Big thanks to Teekay-421 and Rebel Legion Benelux Base for giving us the Star Wars look and feel!
We also want to thank all volunteers and compo admins: they all put a lot of time and effort in trying to make our events an unforgettable experience for our participants.
Last but not least, a big thanks to you, our loyal and first-time participants for registering for our (sold out!) events and bringing a unique atmosphere to the venue hall!
In a few days we'll open a survey which allows you to communicate your opinion about FoM 14.0 and to win some last prizes! We really do care about your opinions and take your suggestions into account while preparing for the next edition. In the meanwhile you can also leave some first thoughts on our forum.
Some first media from our end, the official FoM 14.0 opening movie!